All professional traders take losses.
Today was the day to claim mine. It can be tough to walk away, but that's how I will live to trade another day and be a professional trader.
Day Trades
Today I took 13 trades during the first 75 minutes of the trading day. Net result: -4.3R. The last two entries were clearly revenge trades and exited as soon as I entered them. My first two trades were positive, but I missed the opening breakdown, This led me into a mental state of trying to play catch up and fill in the hole that only existed because my FOMO took over. This led me to be on the wrong side and holding onto positions that I should have exited much earlier. The largest loss was -.85R, so still within the professional 1R risk tolerance. I had the strength to walk away and stay away for the rest of the day so that today's results didn't morph into the psychological blowup days that have plagued me in the past. I believe the outward accountability of reporting here will give me the strength to keep any daily drawdown to a minimum.
Swing Trades
Two trades closed today: ABX and GLD.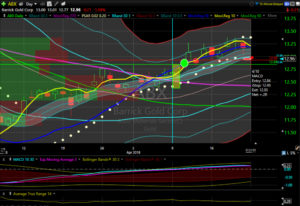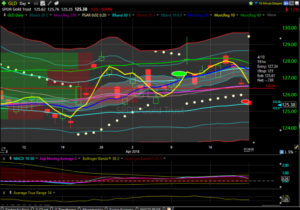 Net result: -.53R A minor loss that certainly falls into the realm of professional behavior.
Thirteen new swing positions were opened today which brings the total number of swing trades open to 24. Currently showing net +4.98R
Long: AAPL, CBRE, EEM, EOG, GRUB, LMT, LRCX(2), NKE, RL(2), SBUX, V, WYNN, XLF, XRT.
Short: AEM, BABA, HSY, NYT, BMY, MRCY, XLP.